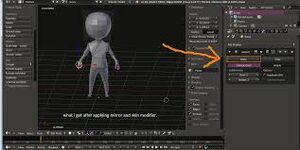 Modifiers are major tools in Blender.
Overview[]
The 'Modifiers' library can be accessed in the toolbar at the right of the screen (if using default interface), taking the form of a wrench.
Modifiers are used for interim editing of meshes, without affecting the base mesh of the object.
Modifiers can be permanently applied by clicking 'Apply Modifier' while in Object mode.